Relationship between Social and Environmental fields
Could an innovative social media campaign or a social innovation brings benefits even to environmental issues? I think the real question is: how could not? The social sphere is nothing than part of the environmental sphere. Imbalance, inequalities in one field often are reflected upon the other one.
For example, think about the global distribution of food and water and how many people suffer from undernutrition and don't have access to clean and safe water whereas others in different part of the world are obese.
Do you call it just a social challenge? Or does it impact on the environment as well? Most of our food derived from intensive industrialized cultivation. But this type of agricultural production contributes to climate change because of the greenhouse emission, enhances land degradation and biodiversity loss, and causes pollution of soil and waterways (Food security and global environmental change ).
Another simple example of the connection between social and environmental sphere could be seen in the global education level. Based on the 2019 SDG report for the Goal 4 "Despite the considerable progress on education access and participation over the past years, 262 million children and youth aged 6 to 17 were still out of school in 2017, and more than half of children and adolescents are not meeting minimum proficiency standards in reading and mathematics". We all know so far that the education and the community awareness are at the basis of a real sustainable society because our daily choices can positively or negatively impact on the environment. Furthermore, education gives the means and the skills to adapt and respond to climate change.
"Culture brings knowledge. The knowledge leads to consciousness. And when we become conscious we are one short step away from becoming socially responsible. Culture is the key of everything"

Massimo Bottura
The next consideration is about the social media and the marketing sector. Are they good, bad, pointless? Well, research and creative thinking can change the world but in order to do it they need to shape today's public debate, they need to be shared with as broader as possible public. Even if today I can change the opinion of just one person, tomorrow they could be two and who knows how many more over time. So, it's undoubted that social media and marketing means have enormous power. The point is how effectively this power is used and with what objectives.
Food for Soul
A very meaningful project that is close to my heart is the Refettorio project that together with the Social tables represent the application of the 'Food for Soul' non-profit organization. Maybe you already heard about the Italian chef Massimo Bottura and his Osteria Francescana. But maybe what you don't know is that Massimo Bottura and his wife Lara Gilmore founded in 2016 Food for Soul, a cultural project to "shine light on invisible potential". The Refettorios are community kitchens where people in situations of social vulnerability can feel welcome, and where the local community can rediscover the value of food and the importance of quality and hospitality to restore dignity.
This project comes from the realization that nearly one-third of the food that is produced in the world is lost or wasted (FAO, 2013). Food losses and waste account for US$ 680 billion in industrialized countries and US$ 310 billion in developing countries…"Mica spicci!" ( "not pennies" in Romanesco dialect).
Food Waste Footprint
The impact of food waste is not just economic but even environmental (data from FAO, Food wasted footprint):
70% of water use worldwide is for agricultural purpose, including irrigation and water for livestock. In the following image are presented some data about how many liters of water are needed for different type of food (for information about chocolate follow this link)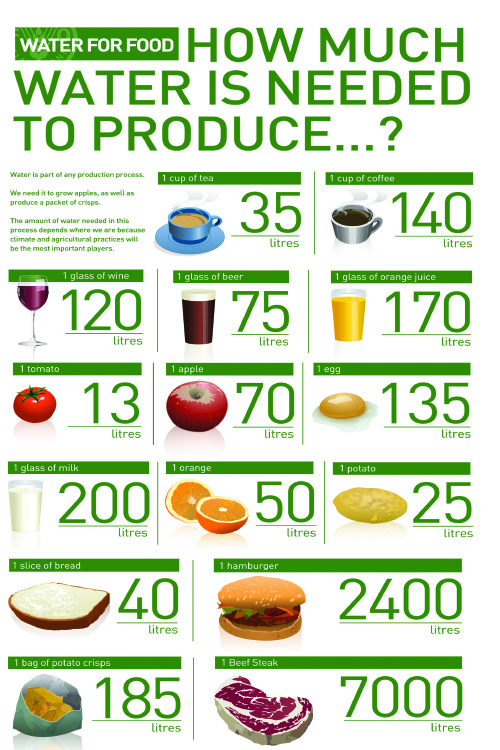 Now the shocking value: 250 km3 of water is used each year to produce food that is ultimately lost or wasted. But this water still needs to be treated in WWTPs and it's an avoidable load.
28% of the world's agricultural area is used to produce food that is ultimately lost or wasted each year.
Food waste is responsible for 3.3 billion tonnes of CO2 equivalent emissions per year including polluting fuels used for machinery and transport vehicles and greenhouse gases emitted by food waste itself.
As I said before, the environment field is connected to the social one. How can we simply let so much food go waste when people around the world go hungry every day?
The power of Beauty
The Refettorios are Bottura's solution to this problem, they unite food surplus potential and social inclusion in neglected and abandoned spaces that have been brought to a new light.
The strengths of Food for Soul are multiple because it can't be defined as a simple charity organization, yes they offer meals to people socially vulnerable, but it's mostly a cultural project. Their goal, in fact, is to create hubs that can be used for social purposes, such as educational workshops, vocational training, lectures and events to promote healthy and sustainable eating habits, social inclusion, empowerment and the exchange of ideas. They highlight the power of Beauty engaging professionals from different fields, including chefs, artists, designers, and food suppliers, to create delicious meals in an environment rich of art and design.
"That's what the real beauty is: to make something valuable out of something that might be seen as not having any value at all. "

Massimo Bottura
Can you see the potential in the SDG's point of view?
After one year from his opening, the Refettorio Ambrosiano in Milan received enough food surplus through its food recovery network thanks to which has ensured a regular dinner service for its guests and even supported other activities in the region.
This initiative if replicated worldwide has the potential to tackle non only the food security problem but even the environmental impacts associated with the food wastage.
So let's help Bottura to raise awareness and make visible the invisible…because as The Little Prince says "Essential is invisible to the eyes".